Welcome to mrfiddle.com!
Welcome,
My name is Don Hicks. I created mrfiddle.com over ten years ago. During that time, people of all ages,
all over the world, have used my violin/fiddle files as a fun way to supplement violin studies. I'm very pleased
to announce that I am now able to offer online violin lessons.
To take advantage, you will need to have access to a computer and a Skype account. The cost of lessons
is $25 per half hour lesson, payable with any major credit card. Please send me an Email at mrfiddle@yahoo.com
for more information and/or to request a particular time slot.
I look forward to meeting with you online!
Don Hicks
1/2 Hour Violin Lesson
Images Below from an Online Skype Lesson


Skype Violin Lessons
Now Available
for Children
and
Adults!

I am now available for
violin lessons online via
Skype. To take advantage
of lessons, you'll need:

1. Fast Internet Connection
2. Skype Installed
3. Lesson payments are made
with PayPal

Violin lessons can be set up at a variety of times. Send me an Email with a selection of times that would work for you, and I will try to accommodate your schedule as best as I can, based on Eastern Standard Time, EST.

* Parents will need to be
present during all lessons
with children to aide with
technical issues, such as
posture and tuning, and
be available to help with
practice between lessons.

If you have found my page to be helpful, and would like to make a donation
(any amount will do) to help keep mrfiddle.com going, please click below.
Thank you!
I am glad that you've found my page for violin/fiddle students of all ages. Scroll down on the contents column to the left, and you will find QuickTime movies on how to improvise, Major scales in all keys with finger/note animations, tuning notes with tuning instructions, my original pieces for violin, MIDI files (Musical Instrument Digital Interface), original songs, and much more!
All selections have "Popup MIDI Files". This means that when you "Click" on the MIDI links, your Internet browser will open and play the songs through your computer's sound card. They play on WebTV as well! The QuickTime movies require the most recent version of QuickTime available at http://www.apple.com You may need to update your Macintosh or Windows Operating System to meet the new QuickTime standards... Sorry. That's just the way it is...
Anyway, let's get started! You can tune up, develop a good bow hold and violin posture, work on a scale, play a piece, and even learn to improvise! But, remember! Take little steps and try to make them perfect. Don't try to take on too many new skills at one time.
To translate this page into Spanish, German, French, Japanese, and more! Go to
http://world.altavista.com/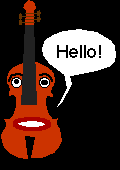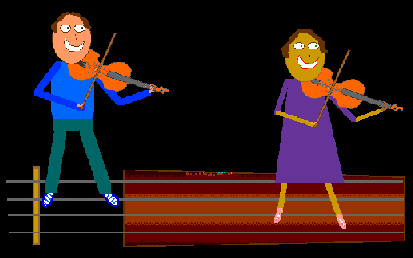 All images and sound files © Don Hicks - 1999, 2004, 2007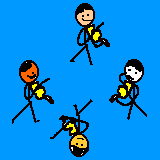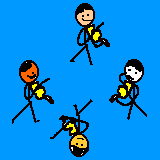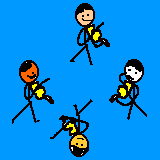 Click here to E-mail mrfiddle.
Here is the first of a few links to other Violin Related sites that I think people should check out.
Johnson String Instrument: violin, viola and cello sales, rentals, strings and accessories, plus sheet music, and much more.