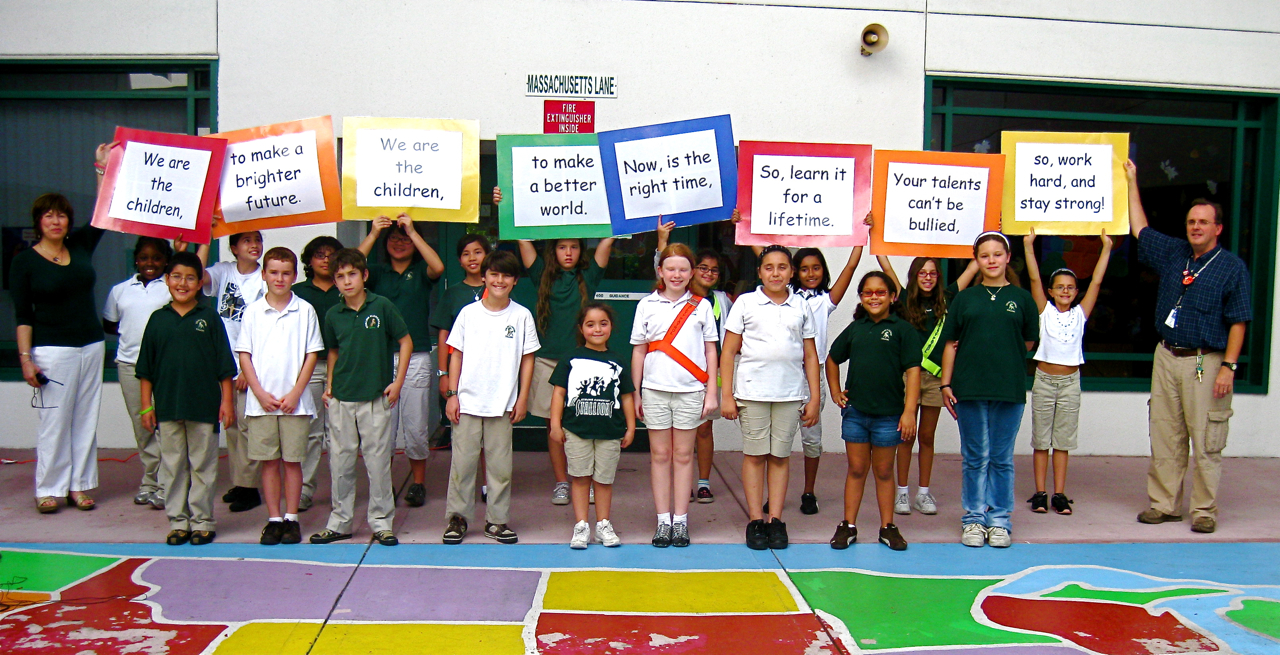 Bullies
Stirling's Guidance Counselor, Marina Frankovitz and I have written a song to support Broward County's new anti-bullying initiative, called simply, "Bullies". While writing and recording the background tracks for this song, I noticed a first grade student with a particularly good sense of pitch, rhythm, diction, and enthusiasm! I immediately contacted her parents, and made a practice CD. The recording went great! I added the voices of a couple of selected Stirling classes for support on the choruses, and created a Karaoke video.
The results are here available for download. It is my hope that other schools in Broward (and beyond) will make use of, "Bullies" in student performances and morning news broadcasts. I've included two versions of the Karaoke video. One which will stream in most browsers with Quicktime installed called, "Bullies.mov". The second is a higher quality copy for use in iTunes called, "Bullies.m4v".
There are two audio recordings one with the vocals, and one with just the accompaniment track. Click on the sheet music image to download a printable pdf file of the lead sheet.
The reviews are in! Click here to see a few!
Stirling Sunshine Singers perform Bullies at the Thousand Youth March November 16, 2008 Video!
Bullies with Vocal Audio mp3 file
Bullies Accompaniment Only Audio mp3 file
Bullies Streaming Karaoke Video Quicktime file
Bullies Higher Quality Karaoke for use with iTunes Quicktime file